Following a busy weekend removing, cleaning (10 loads in the dishwasher) and re-routing there are now a large selection of new routes for you to try out.
Martin will probably be along in a minute with some better pictures but to give you a taster…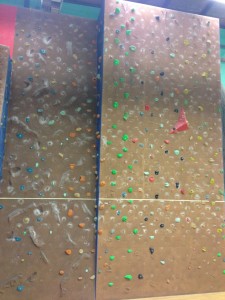 We have new routes ranging from 3 to 6a+ on the vertical & overhanging walls (Guy is probably working on the 6b). There are Blue & Orange 3s on the vertical wall, a Green 4 on the overhang, Beige & Yellow 5s on the vertical wall and a whole collection of other new challenges.

The slab has been updated to have two beginner routes, blue on the right being the simpler of the two.

There are two new challenges on the step overhang – Beige at 5+ and a challenging Black. The next-door vertical wall now has challenges from 4(Yellow on the left) to a challenging red involving a lay-back on the slab and for a final bit of fun you could try the mantelshelf route.
So enjoy, more routes will follow soon. We hope to get some new holds soon working with Copleston School. The club holds fund is going well, if you wish to contribute please let me know.
And finally remember after re-routing holds can spin so take care.