And a few more pictures from the weekend
Stanage – Friday 16th May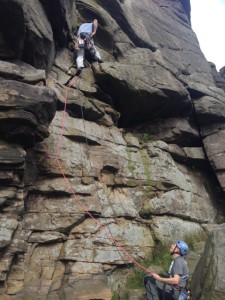 Jeremy leading Mississippi Buttress Direct – approaching the Crux – not too sure that second piece of gear is too solid though. Not quite an on-site due to seconding Mike on Mississippi Variant prior.
Burbage North – Saturday 17th May

Carl attempting to follow Mike up Barry Manilow VS 5a. Belay is protected from the rock face behind and a cam next to Mike to stop him being pulled off the side.